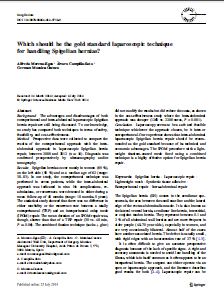 Posted on 8 agosto, 2014 by admin in Cirugía.

Which should be the gold standard laparoscopic technique for handling Spigelian hernias? Abstract Background The advantages and disadvantages of both extraperitoneal and intra-abdominal laparoscopic Spigelian hernia repair are still being discussed. To our knowledge, no study has compared both techniques in terms of safety, feasibility, and cost-effectiveness. Method Prospective data were collected to compare the [...]

No Comments. Continue Reading...